Bauer Cases provides closed cell and open cell foam products that are of the highest quality in the industry. We offer several different foam options that will withstand oils, solvents and fuels.
We can custom cut foam for any application, whether it's a simple toolbox or a complex aerospace or military container. 
PSA Foam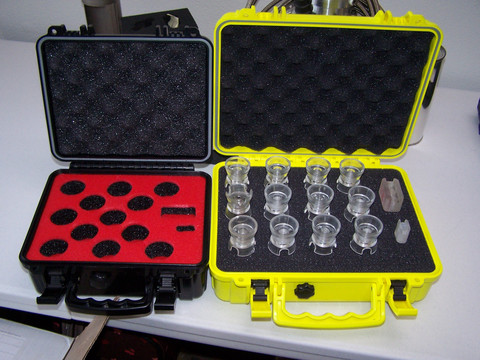 Our PSA (Pressure Sensitive Adhesive) foam is a heavy-duty, 6-lb density foam with an adhesive backing. The flexible, semi-permanent bond is ideal for convenience and quick turn-around on tool shadowing projects. It also allows for easy removal or addition of tool cutouts.
Closed Cell Foam
Our standard closed-cell polyethylene foam meets Federal Spec A-A-59135/59136 (PPP-C-1752D) and resists chemical and caustic jet fuels. We use many different densities of PE Foam to accommodate any application.  (Class 1, Type IV, Grade B.)
Fire Retardant Foam
Our FR Line (2.2-lb Film Top FR) is a fire retardant line that inhibits flame spread and smoke generation, making it ideal for foam applications where flame-retardant properties are required. This foam meets the requirements for use on aircraft interiors, automobile interiors, buildings, appliances/non-structural devices and military applications. There is a 3.5 mil clear PE film on one side to provide an easy-to-clean surface. We also offer a Fire Retardant –Anti Static (FRAS) foam which comes in a teal color.
Our standard "FR" Line of foam is stocked in various thicknesses, but is only available in YELLOW.
Custom Waterjet Cutting Service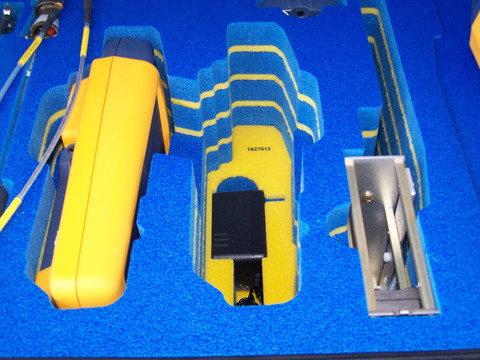 Custom foam fabrication can be an excellent solution to protect a product from damage incurred during the shipping cycle. Foam fabrication also offers a visually pleasing package design to your customer. We aim to concentrate on the end user and what helps the end user perform their job more efficiently.
Our water-jet cutting is capable of slicing into any type of open cell and closed cell foam using a jet stream of water which is forced through a tiny nozzle at a high pressure of 60,000 PSI to perform precision cutting and leaving smooth, extremely accurate edges.
Our water-jet service is available to any customer. This is an environmentally-friendly solution for nearly all cutting needs and is less expensive then laser and die cutting.
Recommended For:
Custom Cut Foam to Any Shape and Size
Custom Case Foam Inserts
Open Cell Foam Cutting
Closed Cell Foam Cutting- EVA/PE Foam
Packaging